March 3 - August 9, 2021
Presented by Museum of the Peace Corps Experience in partnership with American University Museum
OPEN FOR IN-PERSON VISITS
Visit "Peace Corps at 60: Inside the Volunteer Experience" exhibition in-person at American University Museum
Tuesdays and Thursdays, July 1 - August 5 - Click HERE to register for timed-entry. Saturdays, July 10 - August 7, 11AM - 4PM - no reservation required.
View virtual exhibition - hover over photos of objects and read stories that bring them to life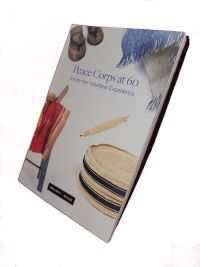 Read exhibition catalog online  
Order the exhibition catalog, featuring color photos and stories, contributed by returned Peace Corps volunteers. $15, plus tax and shipping. museum@american.edu
View exhibition opening event March 3, 2021
COMING SOON video recording of
"Peace Corps 2.0: A Symposium" March 31, 2021
As Covid restrictions are lifted, American University Museum will welcome visitors to "Peace Corps at 60: Inside the Volunteer Experience" exhibition on pre-registration basis. Watch this space for updates and guidelines. 
This exhibition is presented by AU Museum Project Space
at American University and available at Museum@Home