Contribute to the Collection
The Museum of the Peace Corps Experience (MPCE) is actively seeking artifacts that represent the life, work, and experiences of Peace Corps volunteers, the communities they lived within, and the work of the Peace Corps. These artifacts can come from a variety of individuals and sources. Anyone currently or previously volunteering or working with the Peace Corps might have objects that could be a good fit for our collection. If you have items you might be interested in donating, please email us for more information.
Specific areas of collecting interest include (but are not limited to) objects which illustrate the following:
Peace Corps Volunteers work on a range of global issues today, including examples from programs and partnerships (Malaria programs, HIV programs, etc.)
The challenges volunteers face while performing their jobs (language, culture shock; health; communications; transportation, food)
The unique relationships and connections made through volunteering
Significant Peace Corps events, people, and places throughout history
The wide range of work performed in communities around the world
Tools, equipment, household appliances, and clothing representing volunteers in the field
And of course, documents, photos, gifts, and souvenirs
The Museum of the Peace Corps Experience collects primarily artifacts for preservation, exhibition, education, and research purposes; the MPCE is currently not an archive.  Archival materials such as diaries, journals, and photographs will only be considered if they are donated along with an artifact. Acceptance of an artifact does not guarantee exhibition for any length of time.  However, the MPCE strives to display as much of its collection as possible, either in-person or online.
Email us at collections@peacecorpsmuseum.org
or submit a request to contribute to the collection
If you are not interested in donating to the permanent collection at this time, please consider submitting a personal story related to peace corps experiences here.
Artifact Spotlight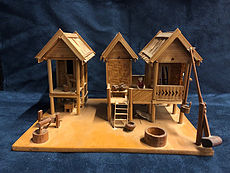 Model of Thai Village, Donated by an RPCV of Thailand, who served from 1978-1980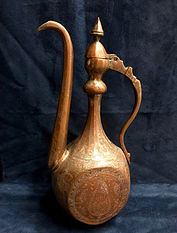 Copper Pitcher, Donated by an RPCV of Iran, who served from 1964-1966