Frequently Asked Questions
The Committee for a Museum of the Peace Corps Experience is working diligently on the organizational foundation and financial requirements to expand the collection and create a virtual on-line presence.

We are preparing for a major fundraising campaign in 2019.  Two essential goals are:
 1. Funding the cost of professional staff, technology and general operations
 2. Capital fundraising for a brick and mortar museum

If you have artifacts that relate to the Peace Corps experience and wish to donate them to the collection of the Museum of the Peace Corps Experience, visit this page for instructions.  We will soon announce when we are ready to accept objects and associated archival materials for the collection.  

In the meantime you can begin by writing stories associated with the artifacts and explaining their significance.  For example:
    •    How you obtained them
    •    What they mean to you and why
    •    What did they mean to the person who gave them to you  
    •    If you bought the artifact, what is the meaningful story behind it.

You can write descriptions of your artifacts and assemble any paperwork, documents, photos or archival material that pertain to them or to your experience as a Peace Corps Volunteer.

You can take digital photos of your three-dimensional artifacts in preparation for sending the photos to us for inclusion in the virtual collection.

In early 2018 CMPCE launched a redesigned website which is the portal for the virtual museum.  Virtual exhibits are being developed and will be added on a continuing basis.  We will post a notice on the website when we are ready to accept virtual content.

Virtual objects that become part of the Museum may include a variety of digital exhibits, videos, audio recordings, educational material or interactive games.  Examples are digital photographs of three dimensional artifacts that are directly related to your service as a Peace Corps Volunteer or a relative who was a Peace Corps Volunteer.  Accompanying the photos will be descriptions of the object, its use and cultural significance as well as stories associated with it.

Yes, you may volunteer to help CMPCE with various projects.  Check the website for postings of skills needed or contact us regarding your interests and availability at:  peacecorpsmuseum@gmail.com.

Please consider donating financially to the Museum. Become a Charter Member ($1000) or a First Friend ($100) or give whatever you are able.  Any amount is appreciated and makes a big difference.
Peace Corps changes lives. Ours. Those we work with. Those we live with. Everyone, volunteer and hosts alike. Here and there.
"The toughest job you ever loved." 

"You'll get more than you give." 

Love it or hate it and there was some of both. Why? Why do some
PCVs leave with regret and others can't wait to go home?
Kava bowl and cups from Fiji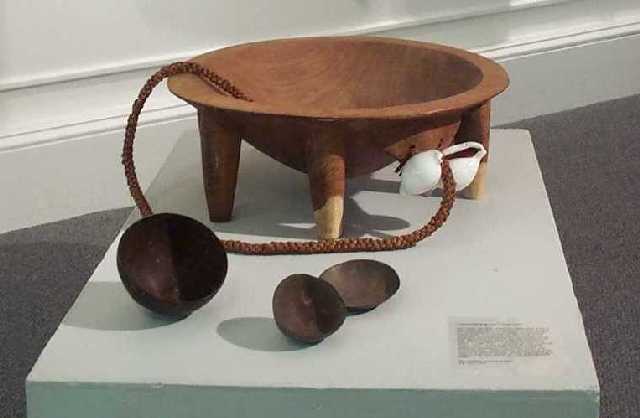 Bamiliki Headdress from Cameroon
To fully appreciate this headdress you need to see it being opened from its closed storage condition.  Jan Weston (Cameroon 1970-72) has some remarkable stories around her experiences with the man who originally owned it.