SNEAK PREVIEW SHOWN SUNDAY, DECEMBER 15, 2019 IN PORTLAND OREGON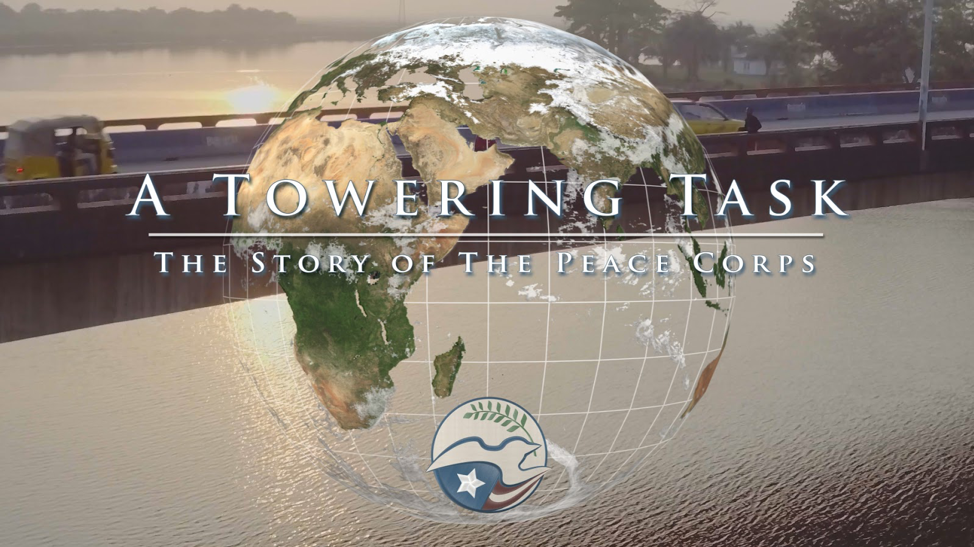 A TOWERING TASK
The Story of the Peace Corps
A documentary narrated by Annette Bening 
Produced and directed by Alana DeJoseph, Filmmaker
START A CONVERSATION ABOUT GLOBAL CITIZENSHIP
Glenn Blumhorst, President, National Peace Corps Association
After the film Glenn Blumhorst updated us on the Peace Corps and the National Peace Corps Association.  Lots of questions from the audience and a lively discussion followed his presentation.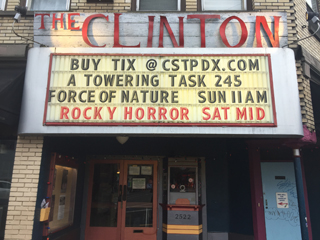 The preview was a project of:
          Museum of the Peace Corps Experience                            Portland Peace Corps Association
http://www.museumofthepeacecorpsexperience.org          https://www.crpca.org                                     
National Peace Corps Association                                     KBOO Community Radio  
https://www.rpcv.org                                                            https://kboo.fm/                  
          A Towering Task
          https://www.peacecorpsdocumentary.com
You made a difference
On September 22, 2019, the museum debuted a special exhibit—our first public presence in Washington, DC—at the John F. Kennedy Center for the Performing Arts.
The festival at the Kennedy Center's new REACH space dedicated the last day to Peace Corps. The exhibit coincided with the world premiere of A Towering Task: the Story of the Peace Corps, an acclaimed new documentary narrated by Annette Bening. The festival drew thousands of visitors.
Your generosity helped us raise part of the $30,000 to make the museum's debut exhibit truly awesome.  Your generous support will continue to highlight your commitment to the Peace Corps mission and the highest ideals of service and global citizenship, as envisioned by President John F. Kennedy in 1961.
You can still make a difference
We are looking ahead to when Peace Corps Place opens early 2020. We will have a dedicated space for our first exhibit there. You can participate with us through your financial donation, artifact donation and help with exhibit installation.
Produced in collaboration with the National Peace Corps Association, the exhibit will include interactive educational displays about the Peace Corps experience, some utilizing state-of-the art holographic and 3-D technologies.
The Museum of the Peace Corps Experience, a 501(c)3 nonprofit, collects and displays objects and stories from volunteers who have served over the past six decades.
If you have questions about your tax-deductible donation or about the museum, please email us:  contactus@museumofthepeacecorpsexperience.org
Why a Museum of the Peace Corps Experience
Peace Corps Volunteers carry home their stories, their changed world perspectives and tangible artifacts associated with memorable situations.  We believe these objects and experiences should be preserved and made public through web-based virtual exhibits and in a physical museum.
The purpose of the Museum of the Peace Corps Experience is to extend the reach of Peace Corps beyond international host communities and individual volunteers.  By exhibiting artifacts and telling Peace Corps stories to far-reaching audiences the Committee hopes to inspire deeper cultural understanding and a commitment to service.
The Committee, a nonprofit 501(c)3 organization, is an affiliate group of the National Peace Corps Association and embraces all three Peace Corps goals:
Help the people of interested countries meet their need for trained men and women.  

Help promote a better understanding of Americans on the part of the peoples served.

Help promote a better understanding of other peoples on the part of Americans.
As an institutional member of the American Alliance of Museums, the Museum preserves and exhibits artifacts, shares Peace Corps stories and educates viewers, all in compliance with best practices and the highest standards of museum management.
"For every young American who participates in the Peace Corps—who works in a foreign land—will know that he or she is sharing in the great common task of bringing to man that decent way of life which is the foundation of freedom and a condition of peace."
~  President John F. Kennedy, March 1, 1961. 
Since President John F. Kennedy introduced the Peace Corps almost sixty years ago 235,000 American women and men of all ages have served in a variety of assignments in 140 countries. While working in cross-cultural environments, volunteers acquire records of their experiences and come home with many stories and artifacts from their service abroad.
A message from Patricia Wand
To view a message by Patricia Wand click here.
We hope you'll join us as we work to share the legacy of the Peace Corps.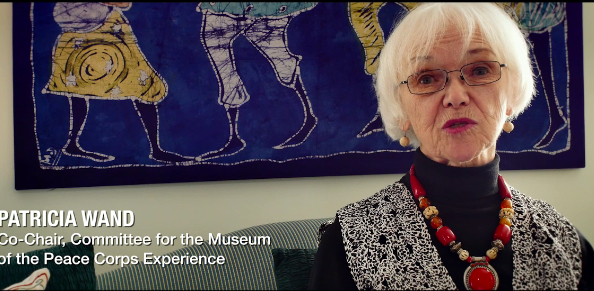 Peace Corps Connect Austin 2019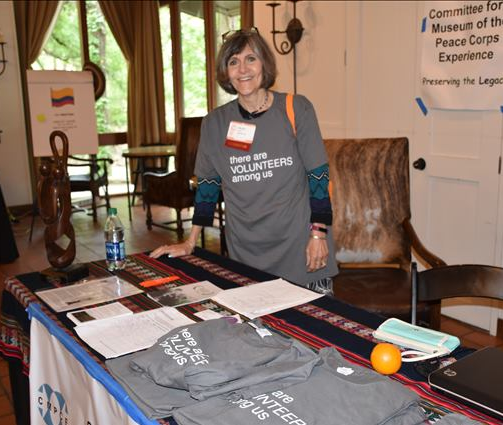 Nicola Dino at the CMPCE table
The Heart of Texas Returned Peace Corps Association, otherwise known as the HOT RPCVs, did a great job welcoming all of us to PCC.
The Committee for a Museum of the Peace Corps Experience had a very successful visit with all of you who stopped by the exhibit table.  Thank you for buying our tee-shirt, "there are VOLUNTEERS among us," signing our membership list, and attending our presentations.
We met old friends and made new ones.  It is gratifying to make connections at PCC with people who share the values of NPCA and CMPCE.