Moving Forward at Peace Corps Connect

The Museum the Peace Corps Experience took a big step from dream toward reality at the August 23-25 2018 Peace Corps Connect gathering at Shawnee, Pennsylvania.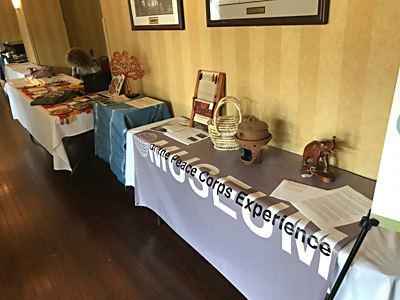 Five CMPCE members—Michael Haviland, Debbie Manget, Pat Wand, Rachel Waterman and Nicola Dino —joined Peace Corps Affiliate Groups and friends to learn about NPCA's exciting plans to move its offices to a new location in Washington, D.C.   The new site provides space for displays and the Museum's first ever brick-and-mortar presence.
Our group led an audience discussion on the question: "What is Your Vision of the Museum of the Peace Corps Experience?"  Participants agreed that preservation of the Peace Corps legacy is at the heart of the Museum's mission.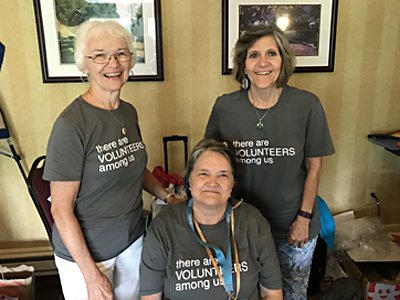 We sold our new "there are volunteers among us" tee-shirts. 
Friends of Afghanistan became Charter Members, the first Affiliate Group to support the Museum at the $1000 or above level. 
                                                                     2018 Peace Corps Connect Conference at Shawnee
Glenn Blumhorst, President of NPCA, championed the Museum as a major Third Goal project.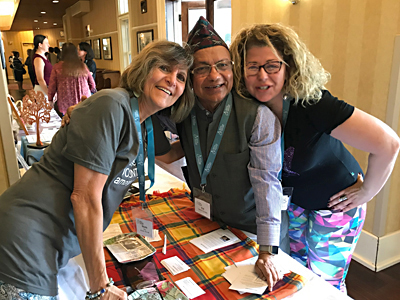 Additional donors and volunteers are needed to help move the Museum project forward. 
Please follow us on Face Book (Museum of the Peace Corps Experience) or join AmazonSmile to help us increase donations.
      Patricia Wand, Debbie Manget, and Nicola Dino
Send your questions or suggestions to: contactus@peacecorpsmuseum.org.

 

 

 


Committee members, Nicola Dino and Rachel Waterman
with Kul Chandra Gautam, this years Harris Wofford   
Global Citizen Award winner.